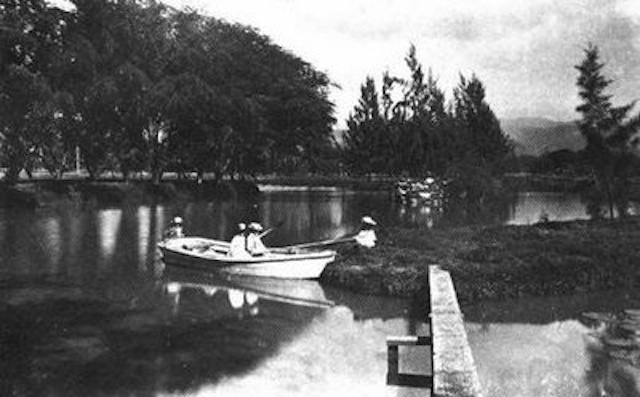 To reach Makee 'Ailana, you either rowed by boat or walked one of several narrow wooden plank bridges.
Makee 'Ailana History
Before the Ala Wai Canal was made, Kapiolani Park was a watery region of swamps and ponds dotted with islands and islets. The largest of these man-made islands was called "Makee's Island". It was in the northwest (Ewa-mauka) corner of the park, where Makee Road joined Kapahulu Road which eventually became Kapahulu Avenue.
The island was covered with ironwood trees, date palms, coconut palms, and kiawe. It was the site of the first Kapiolani Park bandstand, where the Royal Hawaiian Band performed on Sunday afternoons. To get to there you either rowed by boat or walked one of several narrow wooden plank bridges. Picnickers, strollers and people with romance on their minds frequented this secluded spot.
The Makee for whom the island was named was James Makee, a Scottish whaling ship captain. He was one of King Kalakaua's poker buddies and the Kapiolani Park Association's first president. He came to Hawaii in 1843. After being wounded in a Honolulu waterfront brawl he moved to Maui and bought the Ulupalakua Ranch. He renamed it Rose Ranch, planted sugar as a cash crop, and died rich in 1879. He was a colorful and well-liked local figure. In addition to the island, there is also a hula named for him; "Hula O Makee". He is also recalled in the popular song "Makee 'Ailana."
Makee's Island had a lifespan of less than 50 years. Its history coincides with the overthrow of the monarchy in 1893 and the failed counter-revolution of 1895. At the time of the 1898 annexation, the US Army used Kapiolani Park as it's staging ground for military action in the Philippines during the Spanish American War. The Army made repeated complaints about the park's mosquito-infested lagoons.
Similar complaints were also directed at the "foul and stagnant" Makee Island waterways. As a result, the legislature of 1918 appropriated $100,000 for the excavation of a drainage canal that would render Waikiki dry, healthy — and rife for development.
The canal proposal evolved into the Ala Wai Canal project, the first stage of which was completed in 1924. The dredgings from the canal were used to fill the ponds and low-lying adjacent areas, including the islands and waterways of Kapiolani Park. So the wooded retreat created out of the fertile mud of Waikiki was eventually obliterated by 1924. But its name lives on!
For a more detailed history of Makee Ailana in 3 parts, Click: Part 1, Part 2, Part 3