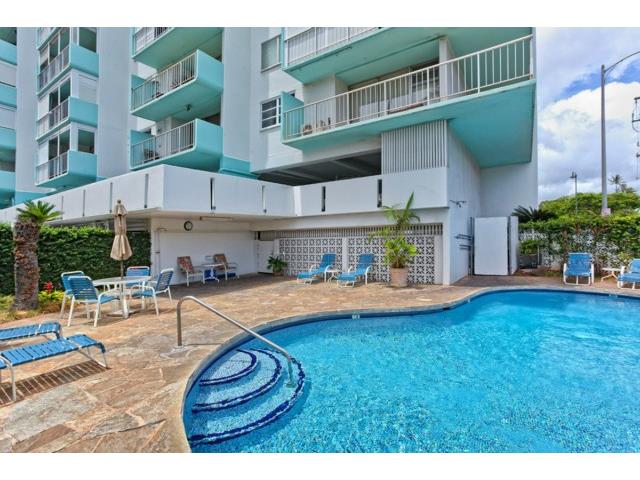 A small, well-maintained, crystal clear pool is on site for all owners and tenants to enjoy!
Welcome to Makee 'Ailana!
Built in 1967, this boutique condominium consists of 48 residences. Each unit having 2 bedrooms, 2 bathrooms, a large covered lanai and 1 assigned parking space.
Few Waikiki condos have what could be called an unfavorable location. Even fewer are positioned as nicely as Makee 'Ailana. First and foremost, the most obvious is that it's only a 1 block stroll to the beach. And you see the south pacific every step of the way!
A majority of these residents look out upon the ocean right from home. No walking required. Looking east the vista reaches to nearby Diamond Head, just beyond neighboring treetop canopies of the Honolulu Zoo and Kapiolani Park. In fact, the only obstructions to be seen are the palm trees swaying in the cooling tradewinds.
All 48 residences of Makee 'Ailana feature the same basic layout of 1014 sq ft. with bedrooms that are larger than the average size for Waikiki. Each bedroom has it's own walk-in closet and private bathroom. Having just 4 units per floor, the covered lanais measure an additional 102 sq ft. The 01 stack features wrap-around versions that are 310 sq ft.
This prime spot, right on Kapahulu Avenue, creates additional unique advantages because it's also a straight walk – or short drive – to quite a variety of restaurants, shops, banks and grocery markets.
Makee Ailana condominium is surely the answer to 2 of the most common issues of Waikiki living – traffic and being crowded-in by towering neighbors. To get any closer to the beach, you'd have to check into a hotel.
With all this, what's not to like?